FN-0035: Triangle funnel, short stem, Borosilicate
Borosilicate glass triangle funnels, have a high resistance to chemical attack, mechanical, and thermal shock.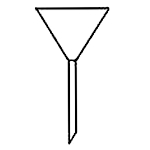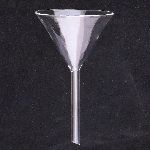 | | |
| --- | --- |
| Displaying 1 to 4 (of 4 products) | Result Pages: 1 |
Product ID+
Price

Diameter 50mm. Stem length 50mm. Overall length 90mm. Stem OD 6mm.

Diameter 100mm. Overall length: 190mm.
Stem length: 100mm. Stem OD: 10mm.

(From Factory - Est. Availability: Unknown at this time.)

Diameter 150mm. Funnel depth: 110mm.
Stem length: 150mm. Stem OD: 18mm. Stem ID: 14mm.
| | |
| --- | --- |
| Displaying 1 to 4 (of 4 products) | Result Pages: 1 |