CP18: Mohr Pinchcock Tubing Clamps
Mohr spring pinchcock tubing clamp. Designed to quicly start and stop fluid flow. Pinchcocks provide complete closure without damaging the tubing. They operate with a simple squeeze. Accommodates up to 12mm O.D. tubing.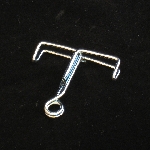 | | |
| --- | --- |
| Displaying 1 to 3 (of 3 products) | Result Pages: 1 |
Product ID+
Price

Size: 70mm. Stainless steel.

S/S, Plated steel. 45mm.

(Out of Stock)

Size 60mm. Stainless Steel. AISI304.
| | |
| --- | --- |
| Displaying 1 to 3 (of 3 products) | Result Pages: 1 |