SP10: Filter Adapter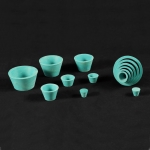 Pluro stoppers designed to fit between the filtering funnel and flask. For use with Buchner funnels, Grooch crucibles, filter tubes, etc. Can be used individually or nested with adjacent sizes.

| | |
| --- | --- |
| Displaying 1 to 1 (of 1 products) | Result Pages: 1 |
Product ID+
Price

Set of 8 sizes plus stopper(mm):
Stopper. Top OD 16mm. Bottom OD 9mm
Size #1. Top ODxID 22x16. Bottom ODxID 14x9.
Size #2. Top ODxID 28x22. Bottom ODxID 19x13.
Size #3. Top ODxID 34x28. Bottom ODxID 22x16.
Size #4. Top ODxID 42x34. Bottom ODxID 27x19.
Size #5. Top ODxID 50x42. Bottom ODxID 32x24.
Size #6. Top ODxID 60x50. Bottom ODxID 42x32.
Size #7. Top ODxID 68x58. Bottom ODxID 52x42.
Size #8. Top ODxID 81x69. Bottom ODxID 64x52.
| | |
| --- | --- |
| Displaying 1 to 1 (of 1 products) | Result Pages: 1 |