CL-0001: Chromatography Column, PTFE Stopcock
Borosilicate glass, general purpose gravity eluted column having a Teflon stopcock and reinforced beaded top. Columns are constructed using medium wall tube. Lower end of the column has a round bottom.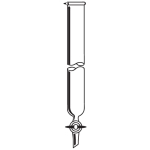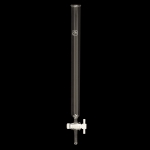 | | |
| --- | --- |
| Displaying 1 to 4 (of 4 products) | Result Pages: 1 |
Product ID+
Price

Internal Diameter 3/4in. Length 12in. PTFE bore 2mm.

(From Factory - Est. Availability: 8-10 weeks from order date)

Internal Diameter 1in. Length 12in. PTFE bore 2mm.

Internal Diameter 3in. Length 18in. PTFE bore 4mm.

ID 3in. Length 24in. Stopcock bore size 4mm.
| | |
| --- | --- |
| Displaying 1 to 4 (of 4 products) | Result Pages: 1 |